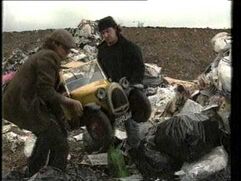 The two saw a lonely Brum who had a flat battery, who had mysteriously been sent to the scrapyard by mistake. They took Brum to the scrapyard and they placed him underneath a giant grabber, and they threatened to scrap him. Thankfully, Brum was saved by the Museum Owner, once the dealers had left. After the grabber operator told them that they're "wasting his time!" They only appeared in Scrapyard.
Ad blocker interference detected!
Wikia is a free-to-use site that makes money from advertising. We have a modified experience for viewers using ad blockers

Wikia is not accessible if you've made further modifications. Remove the custom ad blocker rule(s) and the page will load as expected.