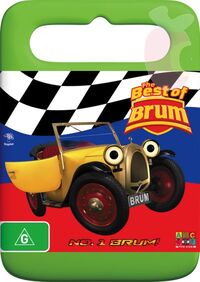 The Best Of Brum is a Australian DVD featuring six third season episodes, four fourth season episodes and four fifth season episodes, featuring the Top 15 episodes of Brum as voted by Australian Brum fans. and it was only released in Australia, and is very rare to find.
Description
Edit
Selection of ten favourite adventures with Brum, the little brummie car with headlamps for eyes and a crank-shaft for a tongue. With the content voted for by Brum fans, it includes ten of the most popular adventures from the Big Town on one action-packed Video/DVD
Ad blocker interference detected!
Wikia is a free-to-use site that makes money from advertising. We have a modified experience for viewers using ad blockers

Wikia is not accessible if you've made further modifications. Remove the custom ad blocker rule(s) and the page will load as expected.