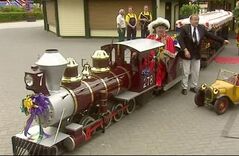 The
Polperro
Express
is a 2-foot long (610 mm) narrow gauge train ride that goes around the big fun park via Splash Canyon & Shockwave. It also goes past Drayton Manor's lake.
It appears in Brum and the Runaway Train which was opened by The Big Town Mayor as a new attraction for the Big Town Theme Park When he sat in the cabin for a photograph, he accidentally released the train's handbrake by mistake due to him being overweight. Brum stopped the runaway attraction train ride by dumping garbage bags onto the track.
The steam engine that was seen is a C-16 class 2-8-0 tender engine from the Rio Grande Company Limited, No. 278, and is a Consolidation American type steam locomotive, which was the most common wheel arrangement for steam trains during the 1800's and 1830's on American Railroads and were given the name "American" in 1872, because all of the work they did on American Narrow Gauge Railroad until 1928, as the engine is pulling two passenger cars. These types of steam engines have 10 different wheels, such as 2 small leading wheels at the front end, 8 large driving wheels, and no trailing wheels.