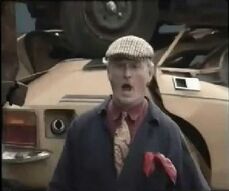 He is the owner of the car museum where Brum lives. He is the only human character who appears in every episode, and the only character who is apparently oblivious to Brum's adventures, despite finding items in the seats at the end of each episode. He played a major role in Scrapyard. Where he saved Brum's life.
Trivia
He was played by Mike Cavanagh who is really, the real owner of the museum,where they filmed the show in the begining and end.
In 1999 Mike Cavanagh who owned the museum and played him retired and sold the museum to The Civil Service Motoring Association,So from seasons 3 to 5 of Brum in the intro and ending active footage of him from season 1 and 2 intro were used,Due to him also not playing him anymore.