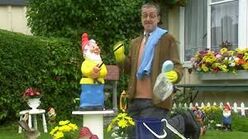 Mr Brillo is a gnome lover who lives next door to Granny Slippers. His favourite picture is the Gnoma Lisa. He has loads of gnomes in his garden. He first appeared in Brum Goes House Painting.
Mr. Brillo was played by Les Taylor in his first appearance and in the later series he had a totally different look as he is played by Rob Thirtle.
Ad blocker interference detected!
Wikia is a free-to-use site that makes money from advertising. We have a modified experience for viewers using ad blockers

Wikia is not accessible if you've made further modifications. Remove the custom ad blocker rule(s) and the page will load as expected.