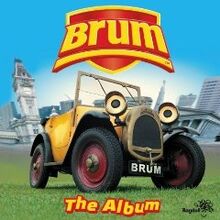 Brum the Album is a CD featuring fourteen songs. From the ending theme and more! It was released on 18th June 2007. It was originally to be released in the UK in 2002 but it released in Australia that year.
Brum Gets Things Done (Dance-pop , hip house , house)
  2. One More Mile to Go (Hip hop)
  3. The Brum Brum Wiggle (Alternative rock , soul)
  4. Who's Drivin? (Alternative hip hop)
  5. Big Town (Soul)
  6. Drive Uptown (Funk)
  7. Beep Beep (Dance-pop , synthpop , electro , house)
  8. Scrub-A-Dub Dubbin' (Electro house)
  9. Got My Gears Turnin' (Nu disco , dance-pop)
  10. He'll Be There (Nu funk)
  11. Big Town Calypso (Rock)
  12. Who d'ya Call? (Pop rock , funk)
  13. Movin' In The Right Direction (Disco , funk)
  14. Boogie Woogie Brum (Hardcore hip hop)
The CD even includes an extended version of "Brum Gets Things Done (The ending theme)" for the first time.
Donna Summer produced "One More Mile To Go".
Ad blocker interference detected!
Wikia is a free-to-use site that makes money from advertising. We have a modified experience for viewers using ad blockers

Wikia is not accessible if you've made further modifications. Remove the custom ad blocker rule(s) and the page will load as expected.