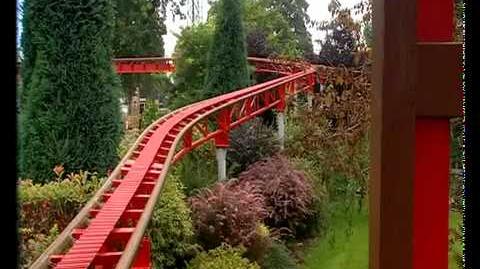 Brum and the Crazy Chair Chase is the tenth and the final episode of series 5, It is also the final episode of the live-action series
Previous: Brum and the Paint Pandemonium
Next: Brum's Car Wash Adventure
Air Date: November 4, 2002
Gorgeous Gordon has ordered a new remote control chair for his hairdressing salon, but it turns out to have a mind of it's own. Brum follows it to the Big Town Theme Park where it gets stuck on the rollercoaster. Brum has only seconds to prevent an accident. Brum saves the day by crashing the chair into a pile of candyfloss and saves Gorgeous Gordon from a hair-raising disaster. 
This is the final episode of the live-action series.
This marks the final appearances of the characters that appear in this episode apart from Brum.
This marks the final time to take place at the big town and the car museum.
This is the last episode where Brum is a small car in the cgi series he's a big car.
The ride that the children are on is the buffalo mountain coaster at Drayton Manor theme park, Tamworth, Staffordshire. (Home of Thomas Land!)
Ad blocker interference detected!
Wikia is a free-to-use site that makes money from advertising. We have a modified experience for viewers using ad blockers

Wikia is not accessible if you've made further modifications. Remove the custom ad blocker rule(s) and the page will load as expected.