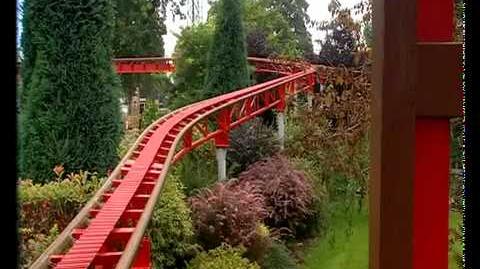 Brum and the Crazy Chair Chase is the tenth and the final episode of series 5, It is also the final episode of the live-action series
Previous: Brum and the Paint Pandemonium
Next: Brum's Car Wash Adventure
Air Date: November 4, 2002
Gorgeous Gordon ordered a new Barber Chair because his old one broke, then came the Chair in Bob on Job's Delivery Truck and Bob and Job wheeled it to the Barber shop where they tested the remote and things start to go wrong, then Gorgeous Gordon breaks the joystick on the remote and then the Chair raced out of the barber into Trouble. 
This is the final episode of the live-action series.
This marks the final appearances of the characters that appear in this episode apart from Brum.
This marks the final time to take place at the big town and the car museum.
This is the last episode where Brum is a small car in the cgi series he's a big car.
The ride that the children are on is the buffalo mountain coaster at Drayton Manor theme park, Tamworth, Staffordshire. (Home of Thomas Land!)
When Gorgeous Gordon breaks the joystick on the remote, the crazy chair spins faster and faster. This is a reference to the Thomas the Tank Engine & Friends episode Tenders and Turntables
This is the second episode with the modified runaway theme, the first being: Brum & the Snow Thieves.
Throughout the episode, we can see an exposed wire of rope pulling the crazy chair.
When Gordon's wig spins after spinning too fast on the chair, his left ear is frozen.
When Brum & Gordon are on the roller coaster, we can see coaster wheels attached to both Brum & the chair.