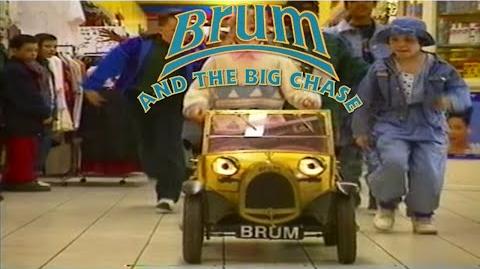 Brum and the Big Chase is the fourth episode of series 2 in 1994.
Previous: Brum is an Ice Skating Star
Next: Brum and the Wedding
Air Date: October 27, 1994
episode info summary
Edit
On a regular day in the big town, everyone seems to be in a dancing mood! Brum can't seem to get the hang of it, but he does give it a chance anyway. However, later on, an infamous robber is on the loose... The kids and the poilcewomen chase him into the mall where he steals miscellaneous items using the various directions to his advantage. Eventually he falls to his knees in exhaustion and sits down in a rug store. Brum and the kids ambush him by knocking him over and wrapping him up in a rug with rope around it and has to walk around wrapped up and he and the police woman walk to the police car and when he comes back after learning his leason he will have to walk around wrapped up in a rug. 
This marks the first appearance of The Rascally Big Town Robber.
The scene which shows Brum exiting the museum was used in seasons 3 and 5 intro.
This shows he is arguably more villainous than The Shadow as he has no problems robbing police and even babies!
He's the only baddie to be able to keep out of Brum's sight and use prosthetic hands to grab things.
A Taz-Mania poster is visible in the AllSports section at the mall. and the police didn't handcuff the robber because he was wrapped up in a rug.
When Brum spins around honking, you can see an orange motor of some sort attached under his back number-plate. it's very likely that the orange motor was used to spin Brum around.