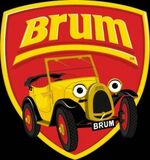 Brum is a children's TV programme about the adventures of a Radio Controlled car of the same name. It was produced by Ragdoll Productions for the BBC and first broadcast in 1991.
It is initially directed and written by Tom Poole and produced by Anne Wood. The show is narrated by Toyah Willcox.
Characters
Edit
Main page: List of characters
Episodes
Edit
Main page: Episode Guide
Brum airs on Childrens BBC.
series grand 2

Ad blocker interference detected!
Wikia is a free-to-use site that makes money from advertising. We have a modified experience for viewers using ad blockers

Wikia is not accessible if you've made further modifications. Remove the custom ad blocker rule(s) and the page will load as expected.